Tour de Guelph 2020 is taking place on Sunday June 28th!
Location & Parking
Tour de Guelph takes place at the University of Guelph, WF Mitchell Athletic Centre, West Gymnasium, Sponsored by Hammond Power Solutions.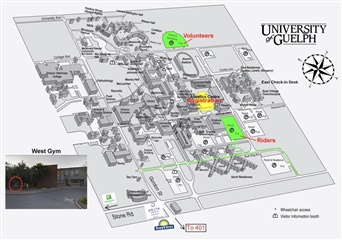 This is where you go to register or if you've pre-registered online, this is where you go to check in for your ride. All rides start and end at this location. There will be ample FREE parking in the designated parking lots. The Tour de Guelph parking lots will be well marked.
Schedule
Registration/ Check-in: 6:00 am – 10:30 am
Tour de Guelph Vendor Alley 6:30 am – 2:00 pm, be sure to check out all of this year's amazing vendors!
160k Start – 7:00 am
100k Start – 8:00 am
75k Road and 70k Multi-surface Start – 9:00 am
50k Road, presented by Label Design and 40 Multi-surface Start – 9:30 am
Family Fun Zone – 10:00 am – 1:00 pm
25k Start – 10:30 am
5k/10k start – 11:00 am
Lunch 11:30 am – 2:00 pm
Final road sweep/ event close – 2:30 pm
Family Fun Zone
The Family Fun Zone will be open from 10:00 am – 1:00 pm. You can decorate your bike, there will be face painting and more!
Route Maps
Below are the 2019 Route Maps! We are providing them as a reference. We are working on making some revisions to the routes for 2020 and we'll update this page with new maps one they are finalized.
40 km Multi-surface GPS Route Map
70 km Multi-surface GPS Route Map
Emergency Contact Number 226-979-7626: put this number in your phone.
Please enter 226-979-7626 into the phone that you will bring with you on your ride. This is the official Tour de Guelph Communications line and if you encounter a minor emergency such as bike trouble or a minor incendent, please contact this number and we'll send help.
For any life-threatening emergency, please dial 911 and then please also call 226-979-7626 to report the incident.
Complimentary Lunch for All Registrants
Every Tour de Guelph registrant will receive a complimentary lunch. Lunch is served between 11:30am and 2:00pm inside the W.F. Mitchell Athletics building. Choose from a selection of freshly made sandwiches, chocolate milk, fruit, chips and more, plus a selection of beverages. Vegetarian and gluten-free options are available. Food will be available until 2:00 p.m. after which time, volunteers will begin cleanup.
Complimentary coffee and tea is also available in the morning during registration.
Bring your own water bottle
To reduce waste, please bring your own water bottle filled with water.
The Guelph Water Wagon will be at the start/ finish line and we will have water jugs at the rest stops for you to refill your bottle.
Rest Stops
All routes, except the 5/10k loop, have full rest stops with food, water and toilets. 
FAQs
Answers to commonly asked questions can be found on our FAQ page.
If you don't find the answer to your question on the FAQ page, then you may direct your question to one of the following:
Questions on registration can be sent to our Registrar at info@tourdeguelph.ca.
Questions on volunteering can be sent to our Volunteer Coordinator at volunteer@tourdeguelph.ca.
Questions on any other matters can be sent to info@tourdeguelph.ca.